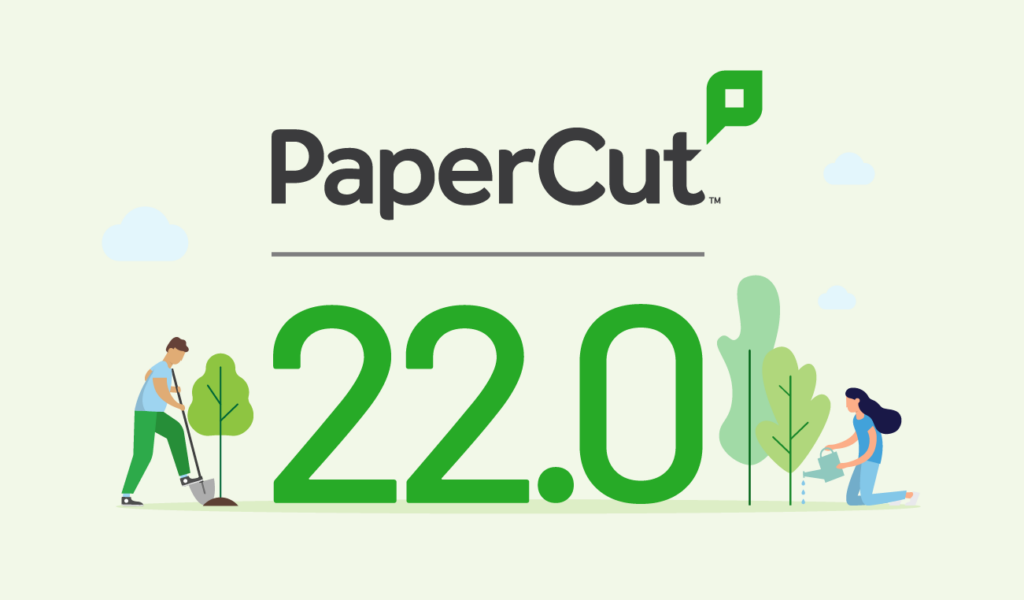 Papercut version 22.0
With the latest version of Papercut, the following developments are now blossoming:
Forest Positive printing with PaperCut Grows program
Improved accessibility
Enhanced PaperCut MF admin login page
Compression options for scanning
Copyright Compliance Automation update (UK only)
Embeddeds for Ricoh SmartSDK, Ricoh, and Kyocera 4.3″ devices
Continuous delivery updates
Forest Positive printing with PaperCut Grows program
PaperCut's new sustainability printing program PaperCut Grows means you can plant more trees than you use for printing, transforming print's impact into a Forest Positive force for ecological renewal. PaperCut Grows empowers businesses' print management to directly invest in the trees and forests of the world, as well as reduce print waste.
PaperCut Grows is available in PaperCut MF alongside 22.0 and PaperCut Hive.
Improved Accessibility
PaperCut 22.0 contains a new End-user Web Interface with a responsive, accessible, and fresh UI. This offers a better user experience for those with accessibility requirements.
Compression options for scanning
Concerned about space when storing documents? In 22.0, Document Processing now supports the option to select high, medium, or low document compression when setting up Scan Actions. But this won't just be for MF and NG, these compression options are also available in PaperCut Hive.
Copyright Compliance Automation update (the UK only)
For CLA compliance in the UK, PaperCut have added support for the Copyright Compliance Automation feature when using Site Servers.
Embeddeds: Scan to fax, at-device scanning, and Integrated Scanning
For industries like healthcare, PaperCut have added support for our "Scan to fax" functionality for Ricoh SmartSDK.
Then on Ricoh platforms where possible there is improved at-device scanning. Scan job processing has been moved into a background process, to allow users at the device to move on to their next task quicker. You can also now automatically add the PaperCut icon to the Ricoh Home Screen after installation.
Lastly, Integrated Scanning's Scan and workflow functionality will now be supported on Kyocera models with the smaller 4.3" interface.