Request a quote today
Visitor Management
Sharp RZ3 – 15" touchscreen Optimised Visitor Management kiosk
What is Visitor Management?
In today's fast-paced business environment, it's common for people to come and go from company premises. Whether they are employees, visitors, or contractors, it's important for businesses to know who is on-site, when they arrived, and where they are located. This information becomes even more crucial in situations like fires or emergencies, where quick identification is essential. That's why Visitor Management solutions are so valuable. With real-time monitoring, organizations can easily track who is currently on-site or working remotely. Plus, attendance reports can be generated with detailed historical or current data, providing valuable insights for businesses.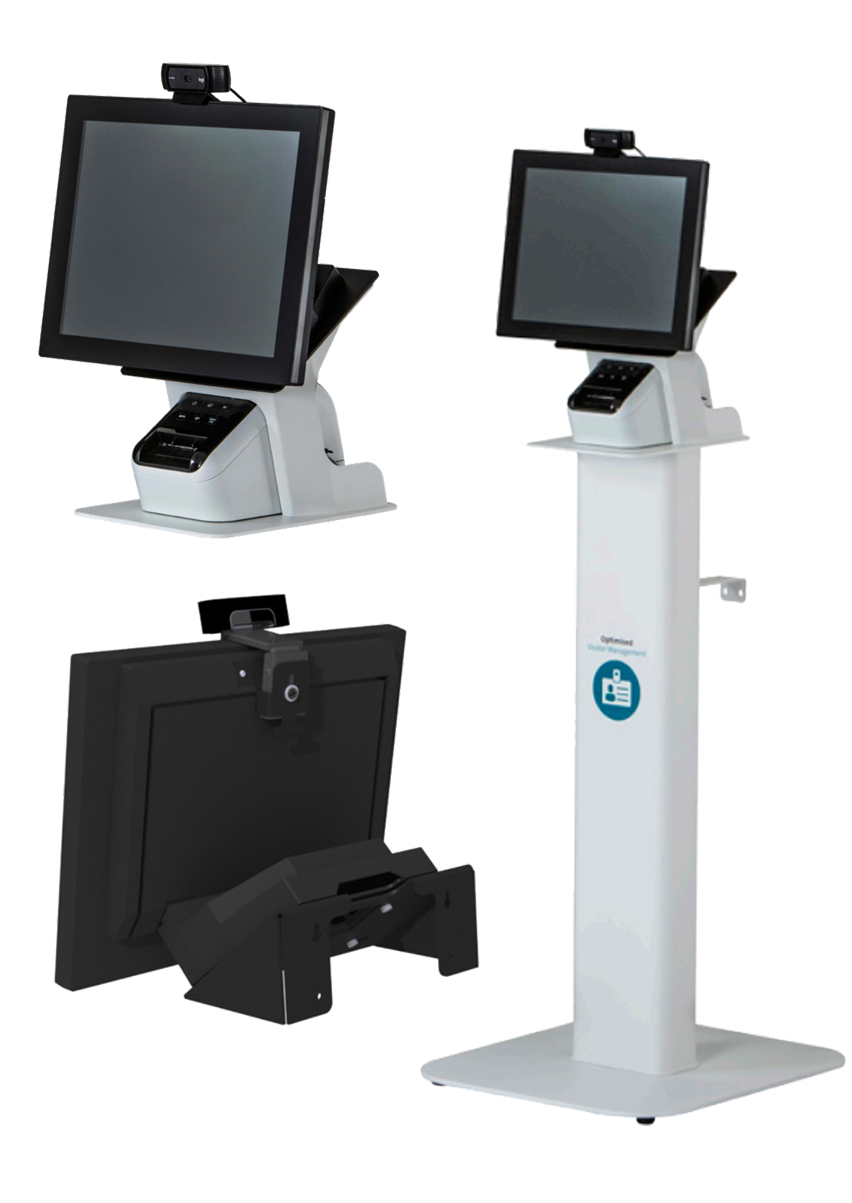 Visitor Management
Sharp's visitor management software offers a digital solution for organisations to register visitors using a sign-in kiosk or contactless technology. Upon registration, the visitor's data is stored, including their name, who they are visiting, company name, date, and time.
The intelligent software automatically notifies the host with the visitor's details and photo identification to confirm their arrival and ensure they are expected. Furthermore, the system can inform visitors of company safety policies, guidelines, and procedures for added convenience.
By implementing visitor management, businesses can provide a great first impression and improve the visitor's experience with a smooth and efficient check-in process. This helps save time by eliminating the need to wait for the receptionist to sign in the visitor and someone to escort them from the lobby. As a result, staff can focus on more productive tasks, improving overall productivity.
Track & Trace
With Sharp's mobile app, you can create a safer workplace and ensure compliance with health and safety obligations. Easily improve the accuracy of your people presence data, communicate important notices to your entire workforce, and check in with employees working remotely.
The mobile app, WolMobile, offers a range of standard features that can help provide a safe working environment. These include people presence reporting, alerts and notifications, procedures and enrollments, and evacuation management.
By downloading the mobile app from both the iOS and Android app stores, you can access even more useful features. These include automatic, location-based sign-in, important notices for hazards, intruder alerts, and general notices, as well as instant SOS alerts that provide immediate contact with nominated safety contacts at the touch of a button.
Additionally, our mobile app allows you to keep track of expected finish times and reach out to at-risk employees and service providers if they're running overtime. Remote workers can also sign in remotely using their geo-location, ensuring their safety while keeping nominated safety contacts updated.
For added peace of mind, our Follow Me feature allows at-risk workers or those working remotely or alone to track their location, either through geolocation or continuous follow.
At Datasharp, we're proud to offer a fully integrated suite of visitor management software, including the WolMobile mobile app and automated visitor sign-in services. Contact us today to learn more about how our solutions can help you create a safer and more secure workplace environment.
Compliant and Legal
The visitor management system operates on a secure cloud-based platform, ensuring GDPR compliance and aiding organizations in fulfilling their regulatory obligations. When individuals sign in, their data is stored in accordance with the organization's data policies. These policies can be displayed on the sign-in kiosk for visitors to review and accept, further ensuring compliance and data protection. At Datasharp, we prioritize the security and regulatory requirements of our clients, providing a robust and reliable visitor management solution.