Sharp & Logitech
Enhance Meetings & Presentations
Introducing Datasharp's Visual Solutions from the renowned brands Sharp & Logitech. We are proud to offer a wide range of cutting-edge screens and video walls that can elevate your company's image and branding. Our expertise lies in the design and installation of these visual solutions, ensuring that you receive a seamless and visually impressive display.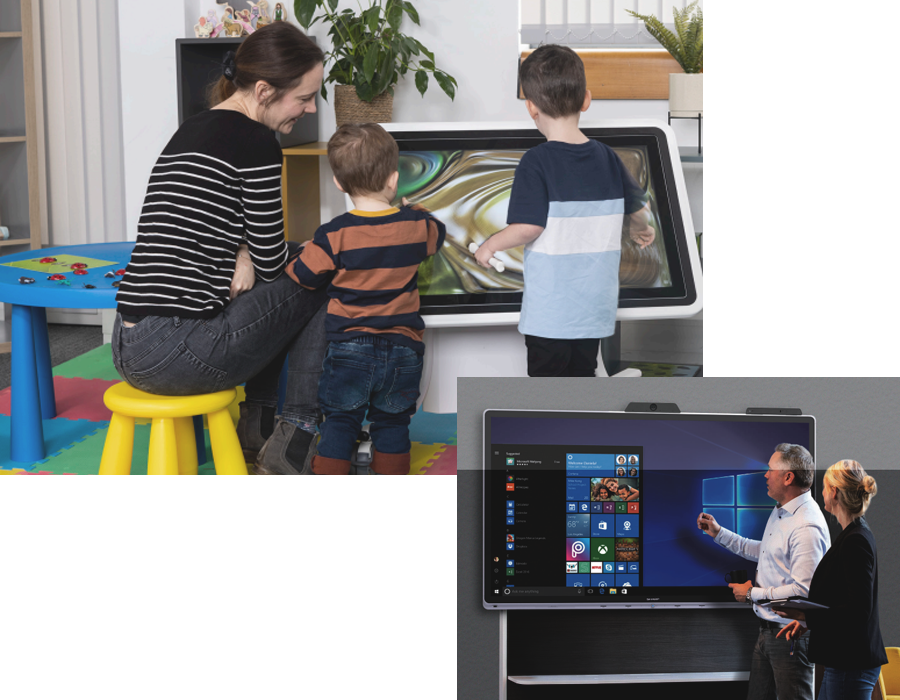 Discover the following Sharp visual solution screen names available at Datasharp:

Sharp BIG PAD Interactive Displays: Experience the power of collaboration with Sharp BIG PAD interactive displays. These large format touchscreen displays enable real-time collaboration, making meetings and presentations more engaging and productive. With sizes ranging from 40″ to 80″, you can find the perfect fit for your meeting rooms or classrooms.
Sharp Aquos Board Interactive Displays: Enhance collaboration and communication with Sharp Aquos Board interactive displays. These interactive displays feature ultra-high-definition resolution, precise touch sensitivity, and built-in wireless connectivity. From brainstorming sessions to training sessions, the Aquos Board displays provide a dynamic platform for sharing ideas.
Sharp Monitors and Commercial Displays: Explore a wide range of Sharp monitors and commercial displays that are designed for various applications. Whether you need a digital signage solution, a display for your retail store, or a monitor for your office, Datasharp offers an extensive selection of Sharp monitors to meet your specific requirements.
We also offer a wide selection of Logitech conference hardware, including:
Logitech Rally Plus: A premium, modular system that features Ultra-HD video quality and customizable configurations to suit your specific needs.
Logitech Meetup: A compact, all-in-one conference cam with a 120-degree field of view and integrated audio and video.
Logitech Tap: A touch control system that simplifies conference room technology, allowing you to start meetings with a single touch.
At Datasharp, we understand the importance of creating an impactful visual experience for your audience. Our team of experts will work closely with you, offering personalized advice and guidance, ensuring that you select the perfect visual solution to meet your business needs.
Contact Datasharp today to explore our range of Sharp and Logitech visual solutions and take your company's visual presence to new heights.