Request a quote today
Conference Hardware
Yealink & Logitech
Intelligent Audio & Video Solutions 
At Datasharp i-Solutions Ltd, we are proud to offer a wide selection of video and audio conference hardware solutions from industry-leading brands such as Yealink and Logitech. With our expertise and commitment to customer satisfaction, we offer personalized consultations to ensure that you find the perfect hardware for your specific needs.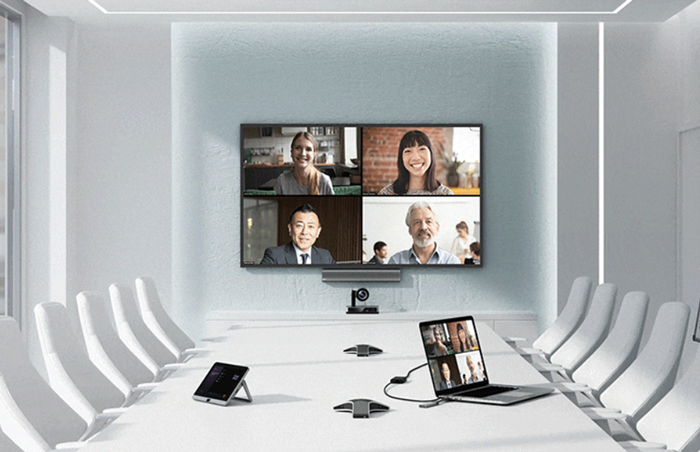 Our range of Yealink conference hardware includes the following products:
Yealink MVC800 II: This all-in-one video conferencing system features an MCore camera with auto-framing and PTZ, two VCM34 microphone arrays, a UVC80 USB PTZ camera, and the Mtouch II console, perfect for larger meeting rooms.
Yealink MVC500 II: A mid-range video conferencing system capable of supporting small meeting rooms of up to seven people. It includes an MCore with Yealink Noise Proof technology, a UVC50 USB PTZ camera, and the Mtouch II console.
Yealink CP960: This conference phone is perfect for small to medium-sized meeting rooms and features a 5-inch touchscreen that allows for seamless operation of the device. It supports up to five parties.
We also offer a wide selection of Logitech conference hardware, including:
Logitech Rally Plus: A premium, modular system that features Ultra-HD video quality and customizable configurations to suit your specific needs.
Logitech Meetup: A compact, all-in-one conference cam with a 120-degree field of view and integrated audio and video.
Logitech Tap: A touch control system that simplifies conference room technology, allowing you to start meetings with a single touch.
At Datasharp i-Solutions Ltd, our personalized consultations can help you to identify the best conference hardware solution for your business, with a range of products and packages available to suit your needs and budget. Contact us today to learn more about how our range of Yealink and Logitech products can take your conference room experience to the next level.