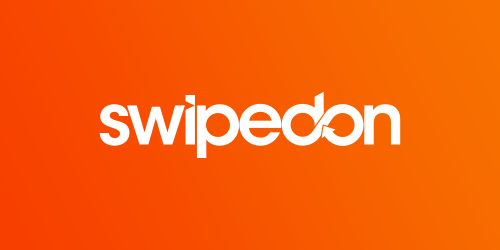 Your complete visitor management system
Visitor registration, made beautiful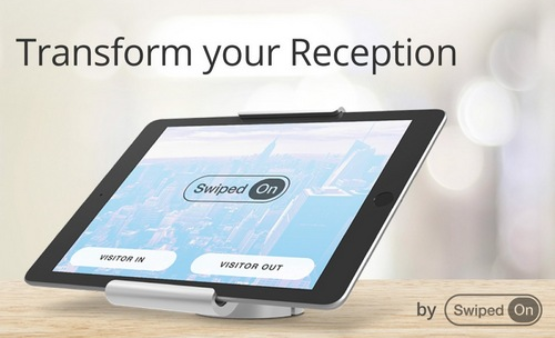 Instant Notifications
Host receives email notifications of their guest's arrival
Add a global email CC or send all notifications to one email
Add your assistant's details to be CC'd on notifications
Optional SMS notifications of visitor arrival
Digital Agreements
Your legal documents can be presented during sign in
Visitor signs directly on the iPad, with signatures stored securely
Supports compliance with health & safety and GDPR
Edit plain text document or upload branded PDF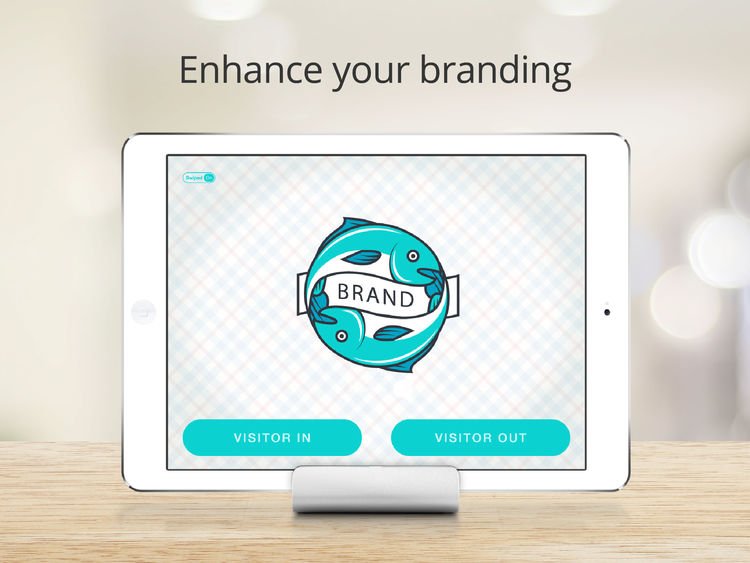 Completely Customisable

Customise the iPad to engage with your visitors
Market your company brand to a captured audience
Ensure your organisation makes a beautiful first impression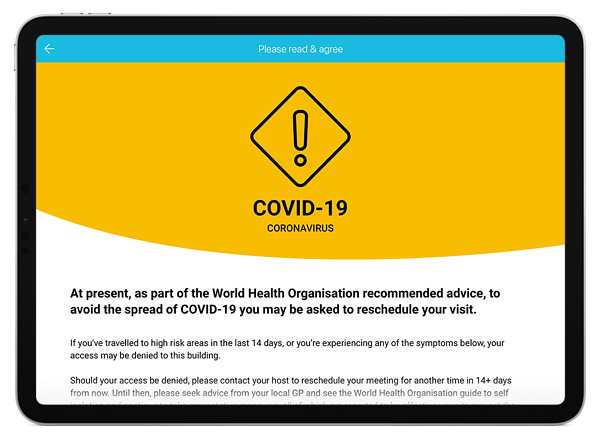 Evacuation Management
Quick access to evacuation list on iPad
Take iPads with you to use as a roll call
Works in offline mode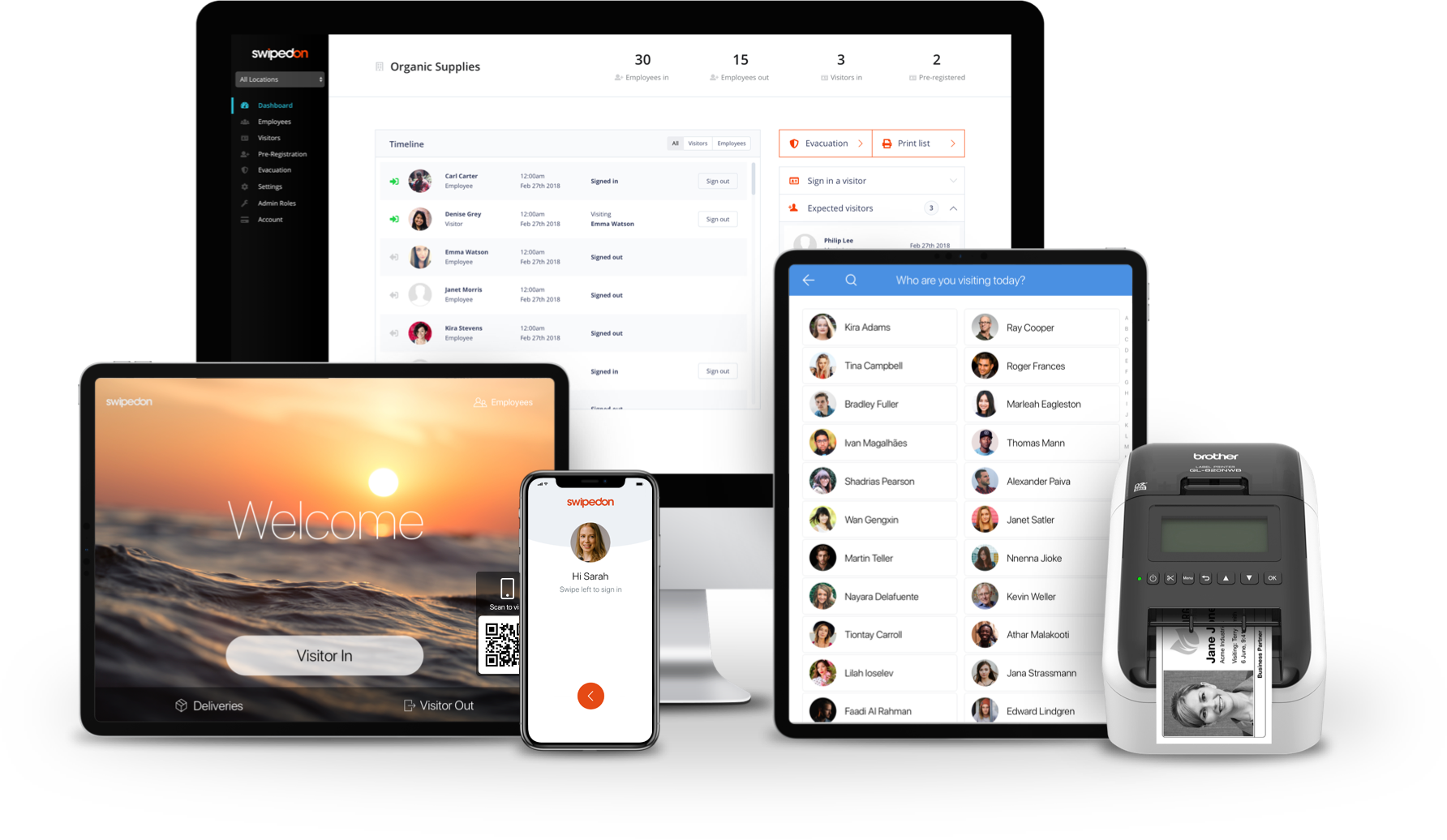 ID Badge Printing
Instantly print professional looking ID badges
Easiest, fastest printer set up on the market
Print via the WiFi, Bluetooth or Ethernet
Supports a range of Brother printers and labels
Streamline your front desk with a smart, simple and secure management system. Clever design and unbeatable value, backed up by true customer care
SwipedOn runs beautifully on an iPad Air or later, running iOS 10 or later. For the best experience, we suggest using an iPad 6th generation model with a table stand and Brother bluetooth printer.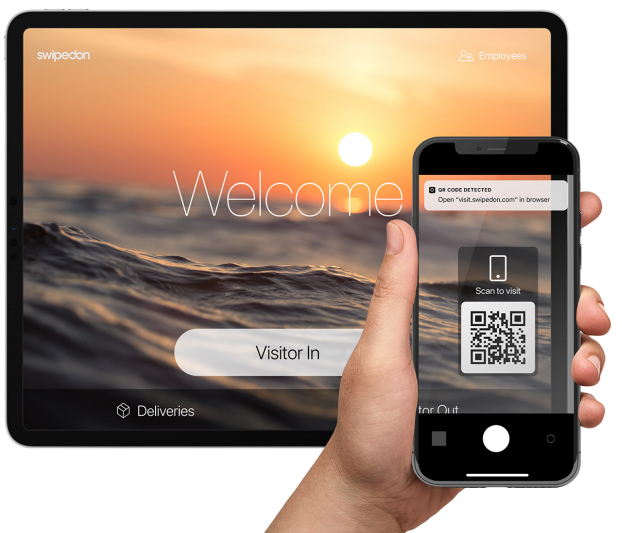 Apple
iPad 6th Generation
contactless sign in
Our contactless sign in solution provides a hygienic, touch free way to register anyone entering your workplace. Visitors can easily scan a QR code hosted on the iPad and sign in using their own mobile device. Using our dedicated smartphone app.
visitor screening
We can help protect your staff and business from the risk of exposure to infectious diseases.
Easily screen your visitor by asking them questions to determine if they are a safety risk to your business. Send alerts to your designated contact so they can take appropriate action.
digital agreements
We capture and store visitor agreement records with minimal fuss but maximum security so you can get on with business.
Any requirement for visitors to review and sign your non-disclosure agreement or health and safety register is easily handled, assisting as a tool in your regulatory compliance system. Don't get lost in the paperwork and risk losing these essential documents – our visitor management system stores your information safely and without fuss.
completely customizable
We help you tailor your welcome to your industry, your people, your requirements and your wishes.
With the SwipedOn visitor management system, you can customize the sign-in iPad at your entrances to engage with your visitors and market your brand to this captive audience. We handle multiple entry and exit points and bring it all together in a handsome, streamlined dashboard. All this, plus SwipedOn's swift, seamless sign-on, will ensure your organization makes a beautiful first impression.
instant notifications
You're used to instant messaging and notifications – why should business guests and visitors be any different?
Quick, efficient and unobtrusive: It doesn't matter if you're in a meeting or on the phone, you'll always know when your visitor has arrived and where they are. With visitor photos included you'll even know who to look for. You choose whether you're notified discreetly by email or SMS.
evacuation management
In the event of an emergency, the safety of your people and the reputation of your organisation can be on the line.
SwipedOn's comprehensive movement record means you know who is on site or in your building, at all times. And our cloud-based technology means you can grab and go: pick up your SwipedOn iPad and use it as a portable roll call and a real-time record-keeper if you need to get out in a hurry.
employee in-out board
Staff need a system that requires no time or effort – especially if they're in and out several times a day.
Keep things moving with our easy sign-ins. Our all-encompassing solution is the ultimate digital employee in-out board, that takes care of all staff movements no matter how many entry or exit points your business may have. There's no better way to streamline your employee register and improve your building's safety and security.
Request more information or a free 14 day trial