SMARTMISTER
The smartest way to sanitise your workplace
KILLS ALL KNOWN PATHOGENS IN JUST ONE MINUTE
INCLUDING COVID 19
SAFE TO USE
Ideal for all ages in any location or public area
MADE IN THE UK
Approved and formulated for care homes, medical groups and institutions
KIND TO SKIN
Non-alcholic
Non-flammable
Doesn't dry skin out
Automatically Sanitise you workplace every night!
Set automatic schedules to run the sanitiser every night. Ideal for office spaces up to 50 square meters.
Control via Amazon Alexa or remotely mobile app
Control your sanitiser via Alexa or via the mobile app for remote cloud operation.
Automated workplace sanitiser / mister (works with Alexa)
Simple-to-use, convenient and effective surface sanitiser and deodoriser
Fully accredited to meet government sanitisation requirements 
large capacity storage tank for up to 31 days usage and easy refill
Kills 99.999% of viruses, germs and spores including COVID-19
Costs less than £1 a day to run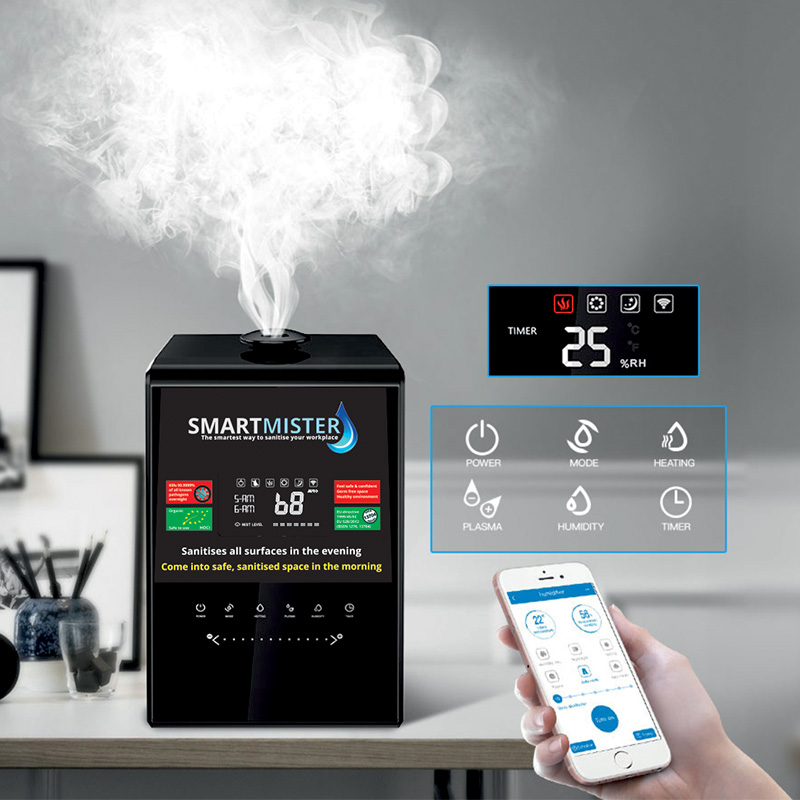 This powerful solution has the power to prevent and control infections wherever risk occurs; in hospitals, care homes, offices and schools using safe organic HOCI and SmartMister. Although HOCI is the most effective disinfectant agent available, it is completely safe for use and is kind to skin and the environment, used for more than 100 years.
Contact us for additional information and pricing.